What to Expect After Graduating Beauty School
Congratulations! You're on the road to graduating beauty school and your future is looking BRIGHT. But, what comes next? Navigating life post-graduation can seem daunting, but you'll quickly learn you've been equipped with the skills to succeed. Read on to learn what you can expect after you reach your hours and become a licensed professional.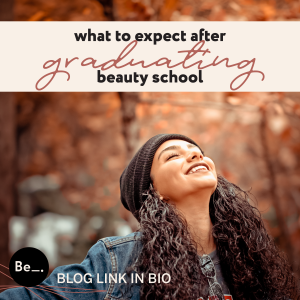 All Types of Job Opportunities 
The BEAUTY of a license in our industry is the many places it can take you. This is not a one-size-fits-all career path. You can take advantage of your education and use it to mold a future unique to you. You can discover endless opportunities as a skin care specialist, hairstylist, make-up artist, masseuse, and more. Many students equip themselves with multiple licenses, or offer a plethora of services, to help build a large clientele and/or their own business.
You'll also discover unique ways to pair your personal passions with your education. Students interested in health and wellness might include overall wellness consultations in their esthetics or massage practice. Makeup artists passionate about fashion might double as a stylist. Licensed professionals passionate about content creation and/or marketing could build a massive online following.
Your ultimate future depends on the work you put in – an education from Aveda should teach you that! You've learned the value of hard work, and will now find it natural to apply that to your job hunt and career path. Network with your community, market yourself online, and prove your value with excellent work, and the opportunities will come rolling in!
An Incredible Network of Salons and Spas
The Aveda network of salons and spas is massive – over 6,000! This network offers all types of unique institutions, that share common core values that represent the Aveda mission. This network values an Aveda education and is always looking for bright young talent. Keep up with our network and get in touch with hiring salons by becoming a part of our Be Matched program! You can submit your information to be matched, and then browse potential employers on our Instagram page.
Continuing Education 
Learning never ends! Once you're a licensed professional, the world of continuing education will be at your fingertips. Mentorship, professional development classes, online courses, and advanced skill courses are all options you can take advantage of.
Our continuing education courses currently include Advanced Make-Up, Lash Extensions, and Hair Extensions. Click here to learn more about our 2021 Advanced Education courses.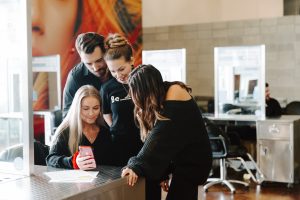 A Lifelong Family
You've navigated beauty school with classmates, educators, and support staff that all want to see you succeed. Your beauty school family will continue to be there for you, long after graduation! Your new support system has watched you grow from the beginning, and while you'll be off on new adventures, you'll always feel like you can come home to your roots.
You've made the best type of investment you can make – an investment in yourself. Your future is bright and you're on the road to an exciting life ahead!
This NAHA 2020 Student Hairstylist of the Year turned her dreams into reality at the Aveda Institute—and you can, too. https://aveda.edu/word-of-mouth/a-career-you-dream-about/