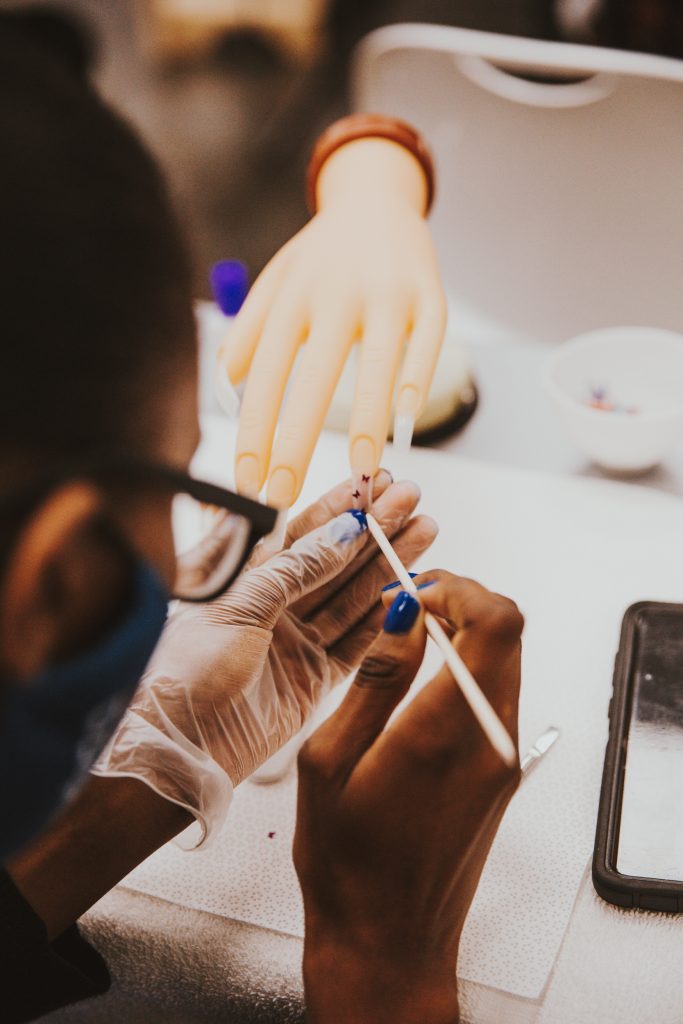 What You'll Learn
Nail Technician students are trained to perform the following services:
Manicures & Pedicures
Nail Tips with Acrylic Overlay
Removal of Artificial Nails
Nail Wraps and Mending
Sculptured Nails
Nail Polish Application
Acrylic Fills
Nail Art
Management skills
Career development skills
Employability skills
You won't just be getting training in techniques. Our curriculum includes training that will help you learn about client retention, product promotion, and other important professional skills that can help you build your career and business skills!
You'll be learning what it's like to work in a professional salon. Our salon and spa is set up with fully-equipped hair, barber, massage, skin care, manicure, and pedicure stations, so students get real-world experience working with clients in a professional environment! Our goal is for students to graduate with the perfect balance of solid technical skills, awesome people skills, and the confidence that goes with it! That's why we designed our 3-day a week program – so you have time to enjoy life outside the classroom too!
During your training, you'll be receiving a professional kit that includes all the essential tools of the trade to help you master the skills you need to put you on the path to an exciting future in beauty!
Our full-time 240-hour Nail Technician program is designed with flexibility in mind and can be completed in 3 months. Classes are held only a few times a week, making it possible to succeed at school while focusing on other time commitments such as work, caring for your family, or pursuing other interests.