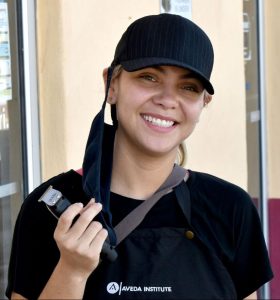 ARCADIA — For Vickey Avila, hairstyling is more than just a haircut − it's therapy. And that's what she brought to a handful of people in need in Arcadia Monday morning.
"Hairstyling is a very intimate moment," Avila said. "I get to know my clients. I ask them about their life story. It's basically a therapy session included with your haircut."
Avila, 25, set up a make-shift hair shop outside of the DeSoto Cares Homeless Services facility on South Orange Avenue, offering free haircuts to people who are experiencing homelessness and others who happened by the building between 9 a.m. and 12 p.m.
"I'm not doing it for any publicity. It's just a way that I want to give back to my community − a small thing that I want to do to make change as much as I can in DeSoto," Avila said. "Ever since I got out of beauty school, I've always wanted to do this. I just want to give back my skill as much as I can."
Avila's first client, Jeronimo Gonzalez, was just walking by the DeSoto Cares Facility when she approached him.
"I asked him if he wanted a haircut and he said he didn't have any money," Avila said. "I told him that was OK and that it's not for money. So, he came and sat down and I asked him if he wanted to finish his food and he said, 'No, I want to get a haircut right now.'"
When asked, Gonzalez, who spoke little English, smiled and said the haircut was good.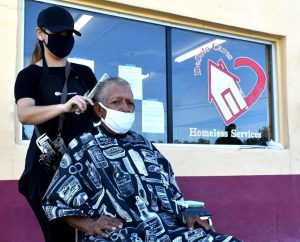 Her second client, Guadalupe Estrada, also said he enjoyed the haircut.
For many, hair and makeup services are a luxury, not a necessity, according to Avila.
"Not everybody can receive the luxury service of a personal makeup artist or hairstylist," Avila said. "I didn't grow up with that. I never went to the hair salon. I didn't really get my nails done. It was really just what my parents could afford."
After graduating from DeSoto County High School in 2013, Avila trained at Aveda Institute Tallahassee, logging 1,300 cosmetology hours within a year.
She also worked at Cutting Loose Salon in Sarasota for an advanced education apprenticeship.
Since then she has gained additional experience as a makeup artist and hairstylist, as well as experience in wig maintenance and costume dressing, at performing arts halls such as Asolo Repertory Theatre and Van Wezel in Sarasota, and Tampa's Amelie Arena.
"Even though I've been trained by the best of the best," Avila said, "I still know that not everybody can get these sort of luxuries."
Avila said she plans to return to the DeSoto Cares location in a couple of weeks to offer free haircuts again.
She has also given out her card to some of the local churches who offer assistance to those in need.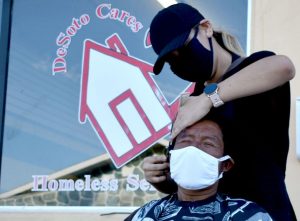 DeSoto Cares provides a number of services to around 400 clients who walk through their doors, including showers, mail boxes, phone and internet, personal care kits and laundry assistance.
They also provide support for those looking to acquire Social Security cards, photo identification, birth certificates, Food Stamps or transportation to doctors.
As far as Avila's free haircuts — not associated with the facility other than location — DeSoto Cares President Mike Provau said it can be a big help for those in need, including low-income families.
"That can be very successful," Provau said, "for (people experiencing homelessness) and low-income families. When you only make $700 to $800 a month, which doesn't go very far, it's hard to budget for a haircut. From a psychological standpoint, it's a very positive service … it's positive all around."
Avila said she is looking for other stylists to join her in the effort.
To find out more information or to contact Avila, go to vickeyavila.com or find her on Instagram by searching @byvickey.
For more information or to help, DeSoto Cares can be reached at 863-231-2255.
Original Article: By DANIEL SUTPHIN, Staff Writer, The Arcadian;  Updated