At Aveda Institutes, Earth Month is more than a month of awareness — it's our chance to hyper-focus on our commitment to help the Earth. Our mission always guides everything we do, but in April we do whatever we can to engage with our community and promote sustainable practices.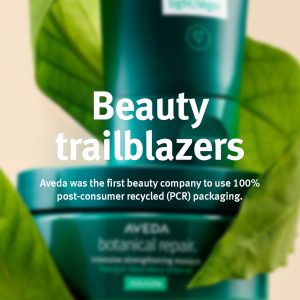 Our Mission
Our mission at Aveda is to care for the world we live in, from the products we make to the ways in which we give back to society. At Aveda, we strive to set an example for environmental leadership and responsibility, not just in the world of beauty, but around the world.
We recognize that through the power of education, we have the opportunity to ensure our industry's next generation of artists and leaders are socially conscious, generous, sustainably-driven, and kind. Since 1999, Aveda guests, artists, employees, and leaders have raised nearly $65 million dollars for local and global environmental organizations. At the very core of our curriculum is a message of altruism, meant to secure the ability to grow those fundraising and awareness efforts over the next 20 years.
Earth-conscious, through and through
Our formulations, ingredient sourcing, manufacturing and packaging are just some of the ways we put our beliefs into practice:
100% Vegan – When you choose Aveda, you are choosing 100% vegan products that care for you and the Earth.
Beauty trailblazers – Aveda was the first beauty company to use 100% post-consumer recycled (PCR) packaging.
Wind-Power pioneers – We were the first beauty company to manufacture products with 100% wind power, and now use 100% renewable energy.
Solar strength – Our 3.6-acre solar array at Aveda HQ powers up to 50% of our manufacturing facility's annual demand.
Clean Water for All – We support global communities in need of clean water through our long-standing corporate partnership with charity:water.
Protecting the Bees – Since 2013, Aveda HQ has protected over 100,000 bees by providing food, shelter, and pesticide-free landscaping.
Earth Month 2021 – Our Clean Water Partners
This Earth Month, Be Aveda Institutes are partnering with local Florida organizations focused on keeping our waters and ecosystems in tact:
Aveda Institute Brandon and Aveda Institute Tampa Bay are partnering with Tampa Bay Watch, a Tampa Bay non-profit dedicated to the protection and restoration of the Tampa Bay estuary.
Aveda Institute Orlando and Aveda Institute South Florida are partnering with the Everglades Foundation, dedicated to restoring America's Everglades through science, advocacy, and education.
Aveda Institute Jacksonville and Aveda Institute Tallahassee are partnering with St. John's Riverkeeper, an organization focused on ensuring a clean and healthy St. John's river for current and future generations.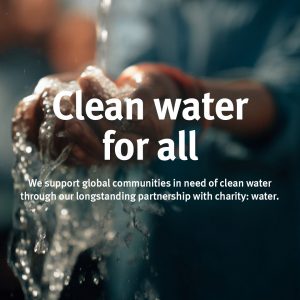 We're offering a variety of initiatives to support these partners! 100% of the proceeds of our Earth Month t-shirts, available in each of our schools now, will benefit these organizations. We're also offering Free blowouts WITH beach waves (or a styling technique of your choice) with a $5 Earth Month donation (call your local school to book.) We're also collecting donations at each of our locations.
Aveda corporately as a brand has partnered with charity: water, a non-profit that provides drinking water to people in developing nations. $5 from the purchase† of our new limited edition shampure™ nurturing shampoo bar will be donated to charity: water. Our shampoo bar  is 100% vegan and empowers you to save water by condensing our formula into a bar shape and reducing water waste. The formula is 94% naturally derived and is crafter with Abyssinian oil, providing gentle cleansing and long-last, weightless nourishment. This bar also cares for the Earth with its 100% post-consumer recycled (PCR) carton.
You can also donate to charity:water using your points! A donation of 10,000 points gives one person clean water, and a donation of 50,000 points gives five people clean water!
We hope you'll join us this Earth Month to help make our environment a better place. However you choose to give back – through awareness, donations, or sustainable practices, your Earth thanks you!!!