The Be Aveda family is committed to educating a new generation of artistic talent in the beauty industry. We prioritize our students happiness by providing the best education, products, support, and experiences. Our programs are constantly evolving along with the industry – we know that to offer our students the highest quality education, we must constantly be learning and improving.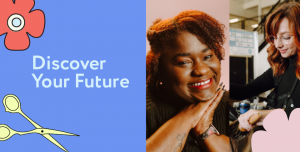 Our programs at Be Aveda stand apart from the rest for a variety of reasons, but we have a few points of difference that we are particularly proud of:
Cutting Edge Curriculum
At Aveda, we believe in delivering world-class education and service. Students learn  An Aveda Institute education is rigorous and thorough. The extensive details of our curriculum cover everything from anatomy (the bones of the face, important for makeup application) to color theory (essential to understanding complementary colors in hair and makeup), and beyond. We have created a modern and unique educational environment by incorporating technology to enhance the learning experience with digital lessons, web-based instructional tools, and social media integration. Each student kit includes an iPad, included in the cost of tuition, allowing 24/7 access to the curriculum.
We also recognize that a career in the beauty industry goes far beyond technique – that's why we support our students with business and marketing classes, as well as extensive product knowledge and customer engagement coaching. A retail store for Aveda hair care, skin care, Pure-Fume fragrances, body care, makeup, and lifestyle products is located at each campus. The store gives our students an opportunity to practice sharing their product knowledge with guests.
Most importantly, we provide hands-on training in our clinic salon and spa environment. A diverse array of guests come to the Aveda Institutes for beauty and wellness services. Students have the opportunity to perform a spectrum of hair and spa services in a thriving salon/spa setting with supervision by licensed educators.
Each Aveda Institute engages an Advisory Board of successful salon and spa owners to guide and assess the effectiveness of our curriculum. Our programs are designed to prepare students for the state licensing examinations in their field. They are educated on state laws and safety requirements, and learn the technical, personal, and business skills to prepare for work in a professional salon or spa. Our program covers the hour requirements necessary to obtain state licensing in over half the US!
Pathways to the Future
With the Aveda name behind our students, they can design their future. Aveda can lead the way to opportunities both within and outside the Aveda global network. Aveda graduates received placement assistance in our professional network of nearly 6,000+ salons, spas, institutes, and experience centers worldwide.
As salon and spa owners, we have first-hand knowledge of what owners want in an employee. When students graduate, they understand the qualities an owner looks for and are equipped with the standard of excellence to meet their expectations. We are constantly networking with salons and spas to listen to their needs and introduce them to our students. We regularly offer career fairs, networking events, and are always hosting employers on our campuses.
We're proud that we can provide this network to our students, all while offering an efficient, timely path to a career. Although most of our programs are full-time, they are designed with flexibility in mind. Full-time classes are held only a few times per week, making it possible to succeed at school while focusing on other time commitments such as work, family care, and more.
Commitment to Our Mission
Our mission at Aveda is to care for the world we live in, from the products we make to the ways in which we give back to society. At Aveda, we strive to set an example for environmental leadership and responsibility, not just in the world of beauty, but around the world.
At Aveda, we believe that nature is the ideal beauty artist. This is why we strive to use naturally derived ingredients whenever possible. We work hard to ensure that ecological and cultural diversity is represented by responsibly sourcing key ingredients from different habitats all over the world.
In keeping with out environmental mission, the construction and design of our buildings are done in an eco-friendly and sustainable manner to create a better and safer place for our students, guests, employees, and Mother Earth. We maintain a goal to minimize our paper use and use eco-friendly business practices throughout our organization.
In alignment with our mission of giving back to society, we gather as a global community during Earth Month and for Breast Cancer Research Foundation to raise awareness and fund causes close to our hearts.
____
Our curriculum is special to us because it is grounded in the foundation of our core beliefs. These beliefs drive everything we do, and are our North Star in a never-ending mission to leave the world better than how we found it:
We believe in treating ourselves, each other, and the planet with care and respect.
We believe social responsibility is our responsibility.
We believe ecological and profit goals are mutually achievable.
We believe our authenticity and experience are our points of difference.
We believe in inspiring and educating people to integrate wellness and beauty in their lives.
We believe in the power of oneness: from our global image to a focused network.
We believe learning never ends.
We believe in encouraging innovations and empowered decision-making.
We believe our actions, products, and services should always embody excellence.
We believe personal and organizational balance is the key to a sustainable business.
We believe true leadership is delivered with passion by example.