We believe learning never ends. It's one of our core beliefs at Be Aveda Institutes.
What does that mean? It means we're humbled by the opportunity to constantly improve our our craft as artists. It means we encourage students to understand that their education doesn't end with that final hour sign-off. It means that there is always something new to discover, experiment, or invent.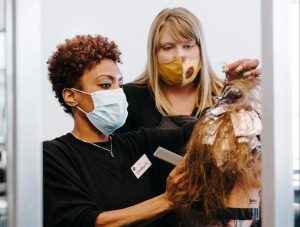 The beauty in this belief is the payoff. There are significant benefits to continuing one's education long after a degree or license is earned:
It's the law – The state of Florida requires a minimum of 10 hours of continuing education courses to renew your cosmetologist or full specialist license, which must be renewed every other year.
Stay on the cutting edge – Continuing education helps artists stay current on the industry's most recent trends, hot topics, and innovations. To be a leader in the industry, you must be in the loop on the most recent tools and tricks of the trade – and continuing education can ensure you are a part of that conversation.
Networking – Skill set aside, continuing education also helps beauty leaders connect with one another. Taking classes offers an organic opportunity to connect with other stylists, artists, and influencers in beauty. Engaging with professionals can spark new creative endeavors, job opportunities, and artistry inspiration.
Career Transition/ Job Opportunities – Continuing education offers an opportunity to build on your skillset – if you're looking to transition careers or find a new job, build your personal skillset is a great place to start. Continuing education courses offer an opportunity to tout specialty skills, reinforce your commitment to your skillset and career, and build connections through networking in these courses. Each of these things will help you stand out from other applicants, and open doors for new opportunities or responsibilities.
Increased Income and Marketability – Even if you're satisfied in your current role, continuing education can offer new certifications that can expand your service offering and thus your income. When you can offer specialty services, such as hair extensions, you can up-sell current clients on additional services, and connect with new clients looking for those specialties. Your added skills will only solidify your credibility as an industry expert and master of your craft.
Personal Development – Continuing education is fun! Networking, traveling, and learning are all experiences that only improve mental health and job satisfaction. New experiences offer a chance to open your mind and invest in yourself. They can also reignite your passion for your craft and field!
Be Aveda Institutes currently offers three advanced education courses: Advanced Makeup, Lash Extensions, and Hair Extensions. Even better, we offer discounted tuition on these programs for Be Aveda Students and alumni. Call us today if you're interested in learning more or signing up!