Before diving into a new career and starting cosmetology school, it is important to be prepared. Take the time to research the school, note the enrollment requirements, the curriculum, program schedule, and tools needed to excel in the field. Being properly informed on the program you choose will help you be better prepared to efficiently and effectively achieve your dream of becoming a licensed cosmetologist.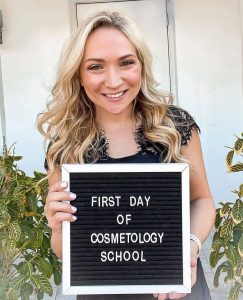 Be prepared to grow
While in cosmetology school you will learn the basics of beauty; hair styling, cutting and color; makeup and skincare treatments and applications; and nail care. Choose a cosmetology program that not only teaches you the fundamentals of cosmetology, but one that will allow you to grow the skills to flex your creativity, build your network and connections, and learn business techniques to further your career.
Be prepared for hands-on learning
Cosmetology school will keep you moving and learning. You won't be spending all your time in the classroom, so get excited to test what you've learned on our salon clinic floor.
Be Aveda balances your time in the classroom and time on the salon clinic floor, allowing you to gain valuable and practical experience working with real clients under the guidance of a licensed educator.
Know the requirements to enroll in school
Each cosmetology school has a list of requirements that each student must meet in order to enroll in the program. Be Aveda requires students to be 18 years or older and have obtained a high school diploma or GED.
If you have any questions about the admission process, call us at 877.282.8332 (877.ATAVEDA)
Understand the state licensing process
At the end of any cosmetology program, students are expected to take the state licensing exam. You'll want to find a reputable school that will teach you the information to pass the exam and start your career as a licensed cosmetologist. In each Be Aveda Institute program, students will prepare for state licensing examinations in their field. Be Aveda also covers the cost of the state licensing fee for our students.
Look into career paths
Once you graduate from your cosmetology program you will have the knowledge and skills to begin your career. As a licensed cosmetologist, you can become a hairstylist, makeup artist, art director, fashion stylist, salon owner, nail technician and many more. No matter your focus, you will have many different opportunities and possibilities. While Be Aveda will prepare you to chase your dream, it also offers an extensive network of over 9,000 Aveda salons and spas worldwide. So no matter where life takes you, your opportunities will remain plenty.
Pack the essentials
There are some back-to-school essentials you want to make sure that you have before starting cosmetology school. Some of these include a notebook and pen and the standard all-black outfit. Many programs will require you to purchase your tools prior to starting classes. Be Aveda provides each student with a cosmetology kit with all the tools and products needed to excel in the program.
Do your research
Research the best cosmetology school program that fits your dream, schedule, and budget. Research the school's website, reviews and social media accounts to understand the culture. When you find the one that aligns with your needs, book a tour of the school to get a real feel of the campus and educators. Be on the lookout for cosmetology programs that offer scholarships, grants and financial assistance. The more research you do, the better you will feel about your decision and the more confident you will be to begin your journey in cosmetology.
Are you ready to enroll in cosmetology school? Learn more about the Be Aveda cosmetology program and apply today!