4 things to consider when choosing a cosmetology school
You have made the exciting decision to pursue an education in beauty and you are ready to become a licensed cosmetologist. Yay! A career in cosmetology will allow you to express your creativity and provide you with the education to pursue a variety of careers and interests. While there are many programs to choose from, here is the top criteria to look for when choosing the best cosmetology school for you.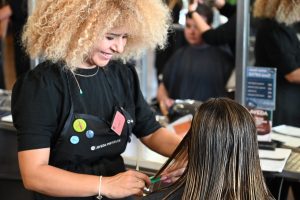 A cosmetology program that invests in YOU
Look for a program that offers a range of classes where you can learn about the many aspects of cosmetology with educators with years of experience who will inspire you to grow in the field. The curriculum taught in the cosmetology program is the most important aspect of the program and will determine your success in the field. Look for a program that will provide you with a well-rounded education in many topics, will test your creativity, and allow you to gain practical knowledge and experience. It is your future, so ensure that the cosmetology school will align with your dream and teach you to be the best you can be.
At Be Aveda, we not only teach the educational fundamentals of beauty to our students, but we also teach real-world business development. We want to educate our students so they not only can grow as a hairstylist, but they can also work to become a salon owner.
Cosmetology program that fits your schedule
You live a busy life and making the decision to go to cosmetology school is an exciting investment in your future, but when looking at the different cosmetology programs, it is important to match a program schedule with your personal schedule. Look for flexibility and learning options. Does the school offer the flexibility of two or more schedules to choose from? How long are the programs? Is the cosmetology school near you? The most reputable cosmetology schools ensure that you, the student, can juggle your important time commitments and beauty school. At Be Aveda, we offer two full-time program schedules to fit seamlessly into your life where you can become a licensed cosmetologist in as little as 10.5 months.
Financial assistance and scholarships
Make sure that the school you are considering offers financial assistance. Beauty school is an investment in your future, and the program you choose should offer assistance to ensure you can focus on learning and not sweat the price tag. Look for financial aid options, payment plans and scholarships.
Culture and mentorship
When enrolling in any school or program, it is important to check out the culture of the company before diving in. You will be immersed in learning, spending over a thousand hours working towards your goal, so you should be somewhere that you feel comfortable, welcome and encouraged to be the best you can be. We are proud of our culture at Be Aveda. Our priority is our students and we strive to ensure they receive the best education and support from our team.
What an exciting time in your life! Deciding to enroll in a cosmetology program is such a fun step and an investment for your future. Are you ready to start your new career in cosmetology? Learn more about Be Aveda and what makes our cosmetology program unique.