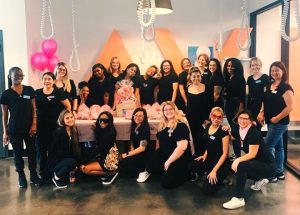 Be kind. Be fulfilled. Be involved.
Be Aveda is proud to give back to society and set an example for environmental leadership and community involvement!
We genuinely care for the world we live in, and we're honored to be able to donate to charities like the Breast Cancer Research Foundation.
In October, we celebrate the Breast Cancer Research Foundation by organizing various fundraising initiatives, including dress down days, t-shirt sales, food bars, gift baskets, raffles and more!
We like to do it Be Aveda style and have fun while we give back. Through our activities and events this year, we've pledged to raise $32,000 for the Breast Cancer Research Foundation.
Each of our schools organizes its own fundraising activities to motivate our neighbors, friends and families to help us support breast cancer research while feeling great, winning prizes, and looking fabulous!
The Breast Cancer Research Foundation is the highest-rated breast cancer organization in the country. This year, the foundation is also the largest private funder of breast cancer research worldwide, and we're happy to contribute to it.
We'll be selling this awesome t-shirt at all of our schools in Florida, and all proceeds will go to the Breast Cancer Research Foundation. We encourage you to stop by one of our schools, attend a fundraising event, or donate to breast cancer research with us.
You can also donate directly to the foundation and learn more about their impact!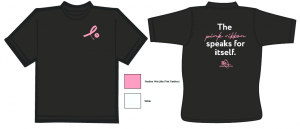 Our Mission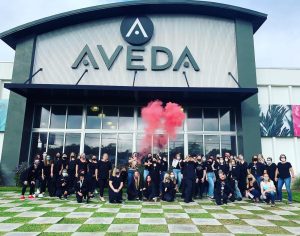 Bettering the community is a huge part of our mission at Be Aveda. We aim to care for the world we live in—from the products we make, to the ways we give back to society. We strive to set an example not just in the world of beauty, but around the world.
Through the power of education, we have the opportunity to pave the way and ensure that our industry's next generation of artists and leaders is socially conscious, generous, sustainably-driven, and kind.
Since 1999, Aveda guests, artists, employees, and leaders have raised nearly $65 million dollars for local and global environmental organizations. We plan to continue growing our fundraising and awareness efforts over the next 20 years, and we invite you to be a part of it!
Check our blog and stay connected with us on Facebook to hear about our upcoming fundraising activities and events.
If you're someone who wants to make a difference in people's lives, leave a positive impact on the earth, and help people reach their highest sense of self-love and self-care, Be Aveda is the right institute for you.
We have 6 convenient locations in Florida, including Brandon, Jacksonville, Orlando, Tallahassee, Tampa, Ft. Lauderdale/Miami.
Apply for a Be Aveda Institutes program today!