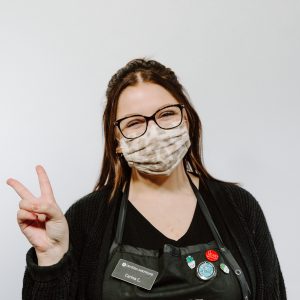 So you're feeling stagnant in your career and you're ready to make a change? Or maybe you're realizing that your job isn't fulfilling you anymore? It happens!
In fact, it happens to most of us. Studies show that nearly 49% of full-time U.S. employees have made a dramatic career shift in their lifetime, and of those who haven't changed careers, 65% say they're thinking about it (Indeed).
If you're considering a career change, you're certainly not alone. No matter your age or how long you've been in your current position, it's an empowering, rewarding decision to switch careers.
We're not biased or anything… but the beauty industry is one of the best career fields to join.
Beauty careers are often overlooked when it comes to careers that make a huge impact on people's lives, but in truth, the health and beauty services you offer can change your clients' lives.
Working in the beauty industry is (unironically) a beautiful thing to do. Your job is to make people feel good in their skin—and that goes a long way.
The beauty industry is rewarding. It allows you to tap into your creativity, try new things, evolve with the trends, and build long lasting, personal relationships with your clients.
Here's why you should consider working in the beauty industry:
1. Your job won't feel like a "job".
That's what happens when you love your job. It feels more like something you get to do, rather than something you have to do.
If you're someone who sees a fresh face as the perfect canvas for a masterpiece, or you believe in the power of a new hairstyle and you're passionate about these life-changing transformations, the beauty industry is for you.
Your passion will reflect in the quality of your services. You'll leave your clients in a better mood than you found them, and they'll be grateful to you for the confidence boost.
Happy clients then turn to loyal clients who refer you to their friends and family. Before you know it, you have a heap of positive reviews, a 5 star rating, and a full schedule—all because you found the right career for you.
2. Your day-to-day life will be interesting.
On Monday, you have an appointment to style a client's hair for her wedding and the next day, you're giving a client a much-needed revitalizing facial. In a beauty career, like cosmetology or esthiology, your work is constantly varied and you get to make your clients' life events that much more special.
If you choose to master multiple beauty skills, you won't have the same day-to-day duties throughout the week. Depending on your chosen field, you may perform different hair services, nail services or makeup services—and no two clients are the same.
Work will stay exciting for you and your varying days will help to keep you engaged and present in your career.
3. You're in control.
You'll be in control of your schedule and your professional development—and what's better than living life on your terms? Beauty careers typically don't have a set schedule, especially a 9 to 5 schedule. As you build your clientele, you can become more selective with your working hours too.
Whether you want to work part-time or full-time, or you prefer morning appointments or weekends off, you choose the hours you put in. If you decide to start your own business and open a salon or spa yourself, you'll have even more flexibility.
If you want to learn more beauty skills, become your own boss, go back to school to offer a full menu of services, or work with high-paying clientele, you decide where you take your career.
We encourage anyone who values flexible work, professional development, and a good work-life balance to consider changing careers to the beauty industry.
Best Jobs in the Beauty Industry
There are plenty of reasons to work in the beauty industry and plenty of opportunities awaiting you! The best job for you will depend on your specific areas of interest and the type of day-to-day life you want to live.
Check out some of these popular careers in beauty:
Esthetician
An esthetician may perform nail services, like manicures and pedicures, as well as facials and massages, waxing treatments and skincare treatments. Your clients will leave your chair or table feeling refreshed with glowing, healthy skin!
With the Be Aveda Esthiology Full Specialist Program, you can become a licensed esthetician in as little as 6.5 months in a full-time program, or 9.5 months in a part-time evening program.
Cosmetologist
Licensed cosmetologists can become hair stylists, beauty advisors, makeup artists, salon owners and more. In cosmetology school, you'll learn how to cut hair, color hair, apply makeup, care for and paint nails, engage with clients, and develop a successful beauty business.
Earn your cosmetology license in just 10.5 months with our 1,200-hour program, or in 12 months with our 1,500-hour program!
Full specialist esthetician & massage therapist
As a full specialist esthetician and massage therapist, you'll be able to perform skincare services, along with massage therapy. With a Be Aveda Dual License in Spa Therapy, you'll be skilled at performing facials, waxing, skincare treatments, wellness treatments, makeup application and massages. We offer a variety of resources to help you pay for school too!
Hair Stylist or barber
Become a barber, a hair stylist for photoshoots, a barbering instructor or barbershop manager with the Be Aveda Barbering Program. Help your clients feel their best with a fresh cut, scalp treatments, hair coloring, line-ups, fades, and more. You'll also learn how to further develop your career for a successful future!
Interested in changing careers to the beauty industry?
We'll help you make the transition. We offer a number of programs that allow you to express your creativity, refine your skills, and help your clients to look and feel their best.
We take a holistic approach toward all of our programs. It's our mission to care for the world we live in through all we do: from our environmentally-friendly, cruelty-free Aveda products to giving back to our community, to helping others feel more like themselves.
If you share the same values, we would love to meet you. Be bold and pursue your dreams in beauty. Be you and help other people feel beautiful.
We have 6 convenient locations in Florida, including Brandon, Jacksonville, Orlando, Tallahassee, Tampa, Ft. Lauderdale/Miami.