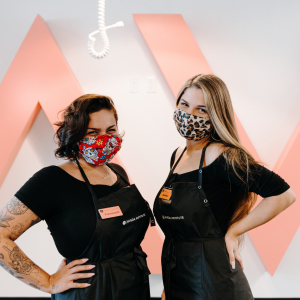 So you enrolled in esthiology school at a Be Aveda institute, you earned your esthetician license, and and you can't wait to start practicing your career, making a difference in the world, and helping people feel beautiful.
Are estheticians in high demand? They sure are! You chose a great time to begin your beauty career. According to the Bureau of Labor Statistics, jobs in the beauty industry are expected to grow by 19% before 2030! So you're already one step ahead.
And if you haven't taken steps to begin your beauty career, now's the perfect time! Apply to a Be Aveda institute near you today.
Once you earn your esthetician license, the beauty world is your oyster. Many people aren't aware of just how many opportunities you have as a licensed esthetician. That's why we're here to help educate!
We provide the best resources, products, and support for our students, because we truly want you to succeed.
Let's dive into careers in esthiology with 5 types of estheticians:
1. Medical esthetician
What does a medical esthetician do? Medical estheticians perform medical-related esthetic services, like advanced hair removal and eyelash extensions, working in a medical spa that offers sun damage treatment, cauterizing varicose veins, or performing intense skin treatments such as chemical peels.
Cosmetic medical estheticians may help burn victims manage delicate skin or provide treatments for people with facial deformities or trauma scars. Their main focus is helping patients to restore their skin or simply care for their skin as they undergo medical treatment or recover from a treatment.
2. Makeup artist
As a makeup artist, you'll be able to work with your client's specific skin type and facial structure to apply makeup. You may apply makeup for your client and/or provide lessons on makeup application.
Makeup artists are usually self-employed, creating their own business and building their own client base. They may move around as a traveling artist and coordinate their own work. While estheticians are trained in makeup application, you don't need a license to be a makeup artist.
3. Eyelash technician and/or eyebrow technician
As an eyelash technician, you will help your clients achieve longer, fuller eyelashes by skillfully applying eyelashes to their eyelids. Your clients will visit you for a consultation, where you'll make recommendations on the type and length of eyelash that best suits your client's eye shape and their desired look.
If you become an eyebrow technician, you get to manicure your clients' eyebrows. You may master various threading, waxing, tweezing and shaping techniques to help your clients achieve a brow angle that best highlights their facial features. You can also further your skill to perform microblading and/or microshading for clients who want a "permanent" makeup solution.
4. Salon or spa esthetician/manager
Estheticians at salons and spas get to provide spa services, including facials and other skincare treatments, body treatments, and dermatology treatments. You'll be trained to perform minimally invasive skincare treatments, like manicures and pedicures, waxing, microdermabrasion, laser hair removal, eyelash extensions—anything the salon or spa offers.
You can then go on to become the manager of a salon or spa, where you'll be managing your business, managing other estheticians, hiring estheticians, training employees and handling client relations.
5. Esthetics instructor
Esthetics instructors teach students how to perform esthetic services, like skincare services, makeup application, eyelash or eyebrow services, and hair management (laser hair removal, waxing, tweezing, etc).
To become an instructor, you will complete an esthetics program, then pass a state licensing exam to be certified in teaching and training aspiring estheticians. As an esthetics instructor, you'll have the opportunity to become a true expert in your field!
Can estheticians work from home?
Yes they can! That's the beauty of careers in esthiology and the different types of estheticians. As you begin building your client base, you'll have complete flexibility over where you provide your services and the clients you take on.
It's possible to work from your own home and have clients visit your home for their appointments, or become a mobile esthetician who visits people at their homes or event venues.
As an esthetician, you get to be a part of your clients' magical moments. Every client who leaves your chair feels happier and more confident than the moment they entered.
You may help your clients prepare for the biggest days of their lives, like a wedding or a special ceremony, and you develop a strong relationship with your clients over time. Careers in beauty are some of the most rewarding careers out there, and according to the Bureau of Labor Statistics, they aren't going anywhere anytime soon.
Take the first step toward becoming an esthetician.
As a licensed esthetician, you can provide a range of beauty services, or specialize in one or two services to master your skills. From esthetics sales to salon management, eyebrow technicians, medical estheticians and everything in between, an esthiology license can take you far.
If you've been thinking about becoming an esthetician, why wait any longer? If you love beauty, you deserve to follow your dreams, find your confidence, and help your clients achieve confidence.
Get started today by applying to the highly-acclaimed Be Aveda esthiology program. Still have questions about different types of estheticians? Don't hesitate to reach out to us! We'd love to hear from you.