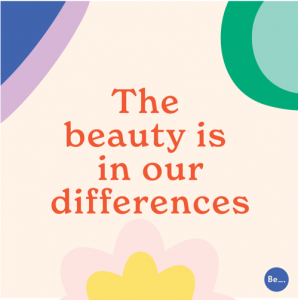 At Be Aveda, we prioritize people. Every student, guest and teammate is seen, heard and appreciated! We're proud to cultivate a happy, supportive, talented environment at all of our locations in Brandon, Jacksonville, Orlando, Tallahassee, Tampa Bay, and Ft. Lauderdale/Miami.
The Be Aveda way is a way of life that's positive, responsible and progressive. We're dedicated to celebrating each other, holding ourselves accountable, mastering our talents, giving more than we take—and having a good time while we do it.
If you're someone who wants to help people step into their most beautiful self, while making a positive impact on our communities, you're already living the Be Aveda way.
You'd fit right in! We encourage you to look into becoming a Be Aveda student, or checking out our current career openings.
We love our students!
It's true! Our students embody our culture, and live out our core values: prioritizing people, being accountable, exercising transparency, having fun, and returning to nature by finding inspiration in the land.
We prioritize our students' happiness by providing the best education, products, support, and experiences to help them extend the skill set and become the artist they've always wanted to be.
From cosmetology to esthiology, massage therapy, barbering and advanced education, we have programs and exclusive benefits for anyone who's ready to join the beauty industry!
Did you know we offer various Beauty Changes Lives scholarships to help you cover the cost of beauty school?
Tuition Assistance to Help You Succeed
Beauty Changes Lives is a non-profit organization driven to make the beauty profession a first-choice career, and empower the next generation of beauty professionals through scholarships, mentorships, and advanced education courses. We're proud to work with this organization to help you succeed!
Relief Grants: The relief grant was created in response to COVID-19, and provides $1,000 worth of assistance to beauty students whose lives were affected by mandated COVID closures.
Since May 2020, Beauty Changes Lives has awarded over $256,000 in relief grants to future and licensed beauty professionals.
Learn more about the relief grant!
Cosmetology Scholarships: There are a number of different cosmetology scholarships programs, including:
The Madison Reed "Confident is the new Beautiful" Scholarship that awards $5,000 toward cosmetology school tuition
The JCS Beauty "Nourish & Shine" BIPOC Cosmetology Scholarships that awards $5,000 towards program tuition and for newly accepted and currently enrolled cosmetology students who identify as Black/African American
The Moroccanoil Cultivating Confidence Scholarship that awards up to $5,000 towards cosmetology school tuition
The Horst Rechelbacher "Sustainable Beginnings" Basic Cosmetology or Barbering Scholarship that awards up to $3,500 towards program tuition to newly accepted and currently enrolled cosmetology or barbering students
And so many more! Check out the other cosmetology scholarships we have to offer. Some of our scholarship enrollments close at the end of November 2021, but you can check back here for the next scholarship enrollments.
Esthesiology Scholarships: If you're interested in esthesiology, we offer several scholarships to help you pay for tuition!
The Renée Rouleau Esthetics Scholarship offers $2,500 scholarships to kindle new talent with the spark of education and set ablaze a vibrant future for next gen skin care professionals.
The Circadia, Sage Michaela Lucas "Timing is Everything" Esthetics Scholarship offers $5,000 scholarships for students enrolled in an accredited program, who identify as black, indigenous or persons of color (BIPOC).
The Horst Rechelbacher "Sustainable Beginnings" Esthetics Scholarship awards $2,000 to esthesiology students.
The Sydell L. Miller Total Image Scholarship is open to newly accepted and currently enrolled esthetics students, and awards $7,500 in tuition!
Check out all esthesiology scholarships!
It's important to us that we support you in living out your dream. That's the Be Aveda way! We operate with transparency, throughout the ingredients in our products, and all of our education and professional development offerings.
If you're interested in the beauty industry, but aren't quite sure which skill you want to refine, or you want to hear more about our tuition assistance options, we encourage you to schedule a tour with us.
We're here to help you explore your options and decide on a trajectory that inspires you to master your talent.
Authenticity is at our core.
Be inspired.
Be authentic.
Be kind.
Be good at what you do.
We'll help you Be the Aveda Way.
We are a family of 5 beauty schools located in Florida, and we're committed to educating a new generation of talented artists who strive to make this world a better place.
If you're already living the Be Aveda Way, or you're ready to make a positive impact on the world through beautiful creations, we would love to meet you. Get to know our culture and see if it aligns with you.