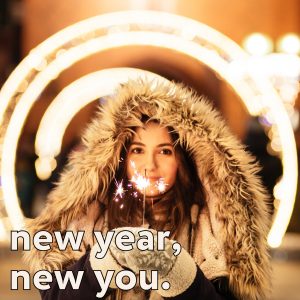 The New Year is the perfect opportunity to start fresh! Why not reinvent yourself, chase your passions, and start living the life you've always wanted?
If you have a passion for helping people feel beautiful, and you want a job that allows for flexibility and endless income potential, this is your sign to become a cosmetologist in 2022.
Top 3 Reasons to Become a Cosmetologist
1. You don't feel excited about your current job anymore.
Do you spend your Sunday evenings dreading work the next day? Have you lost that spark of excitement that you once felt about your career? These are signs that your job is no longer serving you!
We spend one third of our lives at work; the average person spends 90,000 hours at work over their lifetime! When you consider just how many of your days you dedicate to your career, you realize that enjoying your job is essential to enjoying your life.
If your current job doesn't set your soul on fire anymore (maybe it never even did), and you're ready to take on a more fulfilling career, applying to cosmetology school may be your best decision yet.
2. You're the boss.
Are you someone who thrives off of creating your own schedule, setting your own hours, and earning a dynamic salary with unlimited potential? As a cosmetologist, you can work for yourself and set your own salary.
You decide whether you work at a salon, freelance as a solo artist, or start your own business. Maybe you choose to work at a salon when you first earn your degree, then begin your journey as a self-employed cosmetologist over time.
Your earning potential as a cosmetologist is uncapped, because you decide how many services you offer. If you want to provide hairstyle services, nail care, makeup application and esthetician services, they sky's the limit! You decide how far you take your degree.
3. Make a difference in the world.
As a licensed cosmetologist, you can make a difference in the world – one beautiful creation at a time. One of the most rewarding benefits of becoming a cosmetologist is seeing your clients' happiness when their new look is revealed.
You get to dedicate your time to helping people look and feel beautiful. Help a bride-to-be prepare for her big day. Give a client a transformative hair style that makes them feel like their most confident self. You'll build meaningful relationships with your clients – and work won't feel like "work".
What can I do with a cosmetology license?
With a cosmetology license, you'll have tons of career opportunities! "Cosmetology" is an umbrella title that encompasses a variety of beauty services. Where you choose to develop your skills further is up to you.
You may become any of the following:
Hair stylist
Barber
Makeup artist
Permanent makeup artist
Nail technician
Esthetician
Salon/store manager
Celebrity stylist
Beauty advisors
How long does it take to become a cosmetologist?
You could become a licensed cosmetologist in as little as 10 ½ months! At the Be Aveda Cosmetology Institute, we offer two different schedules to help you become a cosmetologist.
1,200-Hour Program: can be completed in as little as 10.5 months
1,500-Hour Program: can be completed in as little as 12 months
The Be Aveda Institute is known as one of the best cosmetology schools in Florida. The cosmetology program is taught by educators who have years of experience working in the industry.
Our cosmetology school curriculum includes:
Hair cutting
Hair coloring
Texture services
Nail care
Makeup application
Business development
Retail knowledge
Client engagement and loyalty
And more!
You'll receive a cosmetology kit with all the tools and products needed to complete our cosmetology program. The state licensing fees are included too!
Steps to Becoming a Cosmetologist
Here's what you have to do to become a cosmetologist:
Apply for the Be Aveda Cosmetology Program, where we'll prepare you with the skills and expertise you need to work in salons – or open your own salon!
Take the Cosmetology State Licensing Exam – your state licensing fees are included in your Be Aveda tuition!
Enter the workforce as a licensed cosmetologist and begin building a client base
The path to becoming a cosmetologist through the Be Aveda program is straightforward. We don't want anything holding you back from living out your passions!
Become the New YOU – Enroll in Cosmetology School Near You
Make this your year! Follow your passions in the beauty industry. This time next year, you could be a licensed cosmetologist with a full book of appointments. Take your future into your own hands and take the first step toward living out your dream as a successful, fulfilled cosmetologist.
Apply to a Be Aveda cosmetology school near you today! We are a family of 5 beauty schools located in Florida, and we're committed to educating a new generation of talented artists who strive to make this world a better place.