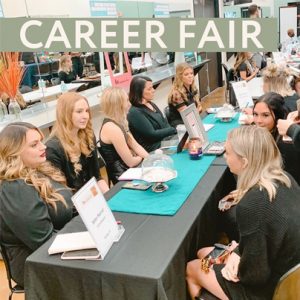 Job interviews can be nerve-wracking, especially when you're passionate about your career! Whether it's your first job interview or your 12th interview, you may be worried about making the right impression, communicating confidently, or getting stumped on a critical interview question.
It's normal to feel nervous or anxious before a job interview!
Now that you know you're not alone, your friends here at Be Aveda have some helpful tips for you as you prepare for your big day. Knowing what to expect can help you feel confident, inspired, and ready to put your best foot forward to land the dream job you deserve.
How to Prepare for a Salon Interview
Tip #1: Do your research on the salon.
Prepare to answer questions about why you applied to work at the salon and what you can bring to the table. Do your research by Googling the salon, reading up on its history (if available), reading about their core values, and reading reviews from their clients and beauty professionals.
It's a good idea to get a feel for the salon's culture before you arrive for your interview so you don't look like a deer in headlights when you're asked what you like about the salon!
Consider booking a service with a stylist at the salon beforehand for the ultimate recon mission. This will empower you to feel comfortable in the salon, and gives you the opportunity to observe how the stylists work with clients and with each other.
Being prepared (and possibly even over-prepared) is also the best cure for nerves. Thoughtful preparation can help you feel more confident when holding a conversation with the salon owner or manager during your interview, and it shows that you take your career seriously.
Tip #2: Build your portfolio!
Nowadays, having an accessible digital portfolio to showcase your beautiful creations is a must. Consider creating an Instagram beauty portfolio that can not only serve as an easily accessible portfolio, but can be leveraged to show off your talent in the community, connect with existing clients, network with other beauty professionals, and attract new clients too!
You never know who you'll run into when you're out and about. Your Instagram profile can serve as your digital business card. And, while you are in school at Be Aveda Institutes, we will work with you to help build your online portfolio.
When you post to your business portfolio, be sure to maintain professional posts that represent your quality of service with high-resolution photos and ideal lighting to do your creations justice.
Instagram is all about esthetically-appealing images – which works in your favor as a beauty professional. Build a strong digital portfolio and be prepared to discuss any of your creations during your interview.
Tip #3: Practice interviewing in the mirror, or with a friend.
Hold a mock interview in your bathroom mirror, or with a willing friend, parent or sibling! Practicing your interview ahead of time can help you find the right words when you're asked to share about yourself, discuss your goals or values, or discuss your past job experience or qualifications.
You don't want to memorize your answers word–for-word; that can come off as rehearsed and a bit robotic. Memorizing answers doesn't allow you to show off your personality either! Your personality can be the differentiating factor between you and another interviewee getting the spot. Let the conversation flow.
Review a list of common beauty interview questions and answers to see what you can expect. Pick out an outfit that makes you feel confident and empowered too! When you look good, you feel good.
Be confident. Be you. Be successful!
Remember, you're interviewing the salon owner or manager and surveying the area just like they're interviewing and surveying you. That doesn't mean you should grill them with questions about their qualifications or anything. (That probably won't leave a good impression.) It just means you're there to see if the salon is a good fit for you too.
Be confident! Know that you're a talented artist – whether you've already made your mark on the beauty industry or haven't had your chance yet – and hold yourself as such. Practice confidence by holding good posture, projecting your voice appropriately, and maintaining eye contact.
Apply to beauty school today.
We have 6 beauty school locations in Florida, and we're committed to educating a new generation of talented artists who strive to make this world a better place!
If you're already living the Be Aveda Way, or you're ready to make a positive impact on the world through beautiful creations, we would love to meet you. Get to know our culture and see if it aligns with you.