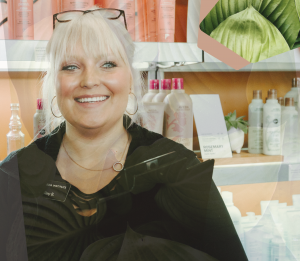 Everything You Can Do with a Florida Cosmetology License
The beauty of a Cosmetology degree is that it is the most comprehensive and flexible degree you can get in the beauty industry. In an accredited Cosmetology program, you'll learn skills like hair design, cutting and styling, coloring and lightening, skin care, facials, makeup, waxing, manicuring, pedicuring, business operations, and more!
Hair Stylist
Becoming a hair stylist at a spa or salon may be the most popular career choice for licensed cosmetologists, and for good reason. As a professional stylist, you'll get to use your creative talents to cut, color, and style hair to make people feel better about themselves – you'll also do keratin treatments, perms and more. Working as a hair stylist typically gives you some flexibility with your schedule, and you can work virtually anywhere in the world.
Hair Color Specialist
While hair stylists do color and highlights, a hair color specialist makes it their main focus. A hair color specialist has extensive knowledge of the technicalities of hair color, depth and tone, and has mastered a range of coloring techniques. They may also help to correct hair color problems or mistakes.
Makeup Artist
There are many different paths you can take if you decide to use your cosmetology skills and creativity to become a makeup artist. You can do makeup for a salon, weddings and events, fashion shows and photo shoots, become a brand ambassador for a cosmetics company, do makeovers, and even do make up for TV, stage or film productions.
Salon Owner/Manager
If you have an entrepreneurial spirit, you may be able to use your Cosmetology license to build up enough experience to become a manager, or even an owner, of your own salon. In addition to your beauty talents, you'll need to have business and organizational skills to help you manage people, please your customers, and ensure your salon is operating efficiently and profitably.
Nail Technician
Love nails? You may want to consider becoming a nail technician. You'll do manicures, pedicures, gel nails, acrylics, extensions, dip nails, and more. And again, you'll get to be creative, expressing yourself with nail art.
And More!
Cosmetologists work in a wide range of positions – you may be a stylist at a Fashion Show or even teach cosmetology to a new generation of students.
If you're interested in any of these careers, perhaps it's time to get on your beauty path! Click here to apply to beauty school or call 877.282.8332 to learn more!