Summer Makeup Trends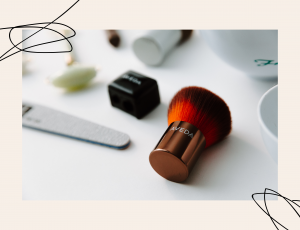 Summer Makeup Trends
Say goodbye to the smokey eye, your deep burgundy lipstick, and matte everything. While those were great for fall and winter, it's time to lighten up and have some fun with summer makeup trends. Get ready to heat things up this summer with some unexpected and playful new looks.
Dewy Skin
You've likely heard of glass skin (achieved with skincare) or dolphin skin (achieved with makeup) already, but these trends are still going strong for summer. The idea is to make your skin look fresh, luminous, and even a bit wet – like a mermaid emerging from the sea. Proper hydration, products that boost radiance, and a clear skin balm or gloss on top of your makeup can help you achieve this look.
Highlighted Cheekbones
Use liquid or balmy highlighters to get your cheekbones gleaming, like they would naturally in the sun. This simple trick makes your cheekbones look higher, your eyes shine, and your face look more contoured.
Pastel Eyeshadows
Pop out some pretty pastel eyeshadows for summer. Think lavender, pink, baby blue, matcha green, or even a soft yellow. Keep the rest of your makeup palette neutral so your pastels stand out.
Floating Eyeliner
Who says your eyeliner has to sit on your lash line? Floating eyeliner, also known as a floating crease, are bold graphic lines that are drawn above the eye – typically to emphasize your natural crease. There are countless variations of the floating eyeliner – straight, curved, winged, dotted – and in pastels, neons, and yes, even your anything-but-basic black. Search it on your Insta feed and give it a try!
If you enjoy learning about makeup trends and mastering new looks, you should consider turning your passion into a career you love! Click here to apply or call 877.282.8332 to learn more!