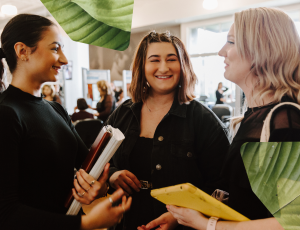 5 Back-to-School Beauty Essentials
It's hard to believe, but before you know it, summer will be over, and it will be time to head back to school. But the end of summer doesn't have to be a bummer. Get ready for back-to-school shopping for those must have beauty essentials that will keep you looking your best through all your classes and beyond!
Dry shampoo
Slept through the alarm? Don't panic! Spray some dry shampoo at the roots of your hair, let it do its oil-absorbing magic, and brush out. It will extend the life of your latest style, preserve your curls, and -especially if you have long hair
A great BB cream
A BB cream is another great time saver and acts as a moisturizer, sunscreen, and light foundation all in one. You'll look naturally radiant, not overly made up, while protecting and hydrating your skin.
Oil blotting sheets
When it's the middle of the day and you're starting to feel a little shiny, oil blotting sheets are your new BFF. You don't have to redo (or undo) your makeup. Just simply press a discrete little sheet of paper on your face, and watch any excess oil disappear. Keep them handy in your purse or pocket.
Blemish control and cover
Feeling that little tingle that indicates you are about to break out? Zap those zits with the latest acne patches or pens and invisibly begin treatment right away. Or try a concealer that doubles as a blemish medication and save yourself a step.
Makeup remover wipes
Finally, at the end of a long day, be sure to save your skin by taking that makeup off. With makeup remover wipes, your skin will be clean and fresh in a flash. The best makeup remover wipes take off even waterproof mascara with ease.
Try Aveda!
Back to school is cool when you're going to beauty school!
If you enjoy learning about all things beauty, consider turning your beauty obsession into a career you love! Be Aveda offers programs, such as Cosmetology and Esthiology That will prepare you for a career in beauty. To learn more, schedule a campus tour/apply, or call us at 877.282.8332!