How much do you know about cosmetology? Cosmetologists are licensed specialists who provide beauty services to clients. Most cosmetologists work as hairstylists, providing hair cutting, coloring, and styling services. There is a demand for cosmetologists and according to the Bureau of Labor Statistics, cosmetology is a growing field! If you're thinking about becoming a cosmetologist, now is the time to follow those dreams.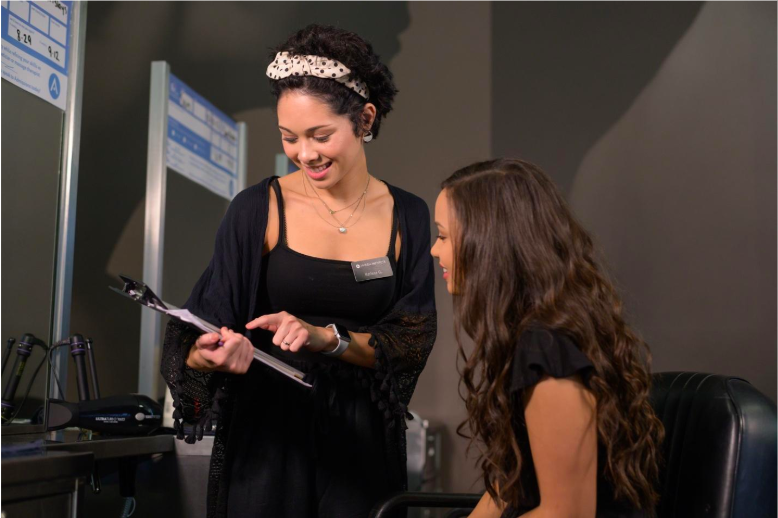 Why You Should Become a Cosmetologist
Depending on where you live, a cut and color at a moderately high-end salon can easily cost $200 or more. While the stylist doesn't usually take home the entire amount, they take home more than minimum wage for that service. In fact, if you are working in a popular salon you can make a very high income as a stylist! Some stylists even make over six figures.
While making a comfortable living is important, there are many other benefits to becoming a cosmetologist such as a flexible work schedule, continuing education opportunities, and creative work each day.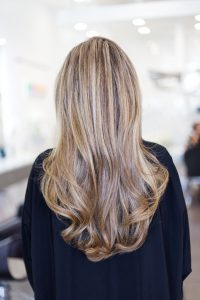 How to Become a Cosmetologist
One great benefit of cosmetology is that beauty school can be completed in as little as one year, and the cost of training is much less than that of a four year degree. At the Aveda Institute, government financial aid is available to those who qualify.
Becoming a cosmetologist is a lot easier than you might think. Here's how to get from reading about cosmetology behind your laptop to working behind the chair!
1. Research Beauty Schools
The first step to becoming a cosmetologist is doing your research! Learn more about cosmetology and the beauty schools in your area. Online research is a great place to start, but talking to people who are licensed cosmetologists can also be helpful.
Whether it is your own stylist or someone else you know, finding a cosmetologist you can talk to and learn from can be very helpful. Choose someone who is successful and has taken a career path that you might like to follow, and they can help give you great advice.
View this post on Instagram
2. Tour Beauty Schools
At each of our Institutes we encourage anyone who is interested in pursuing a career in beauty to visit our school! You can expect a low-pressure meeting with an admissions team member where you can get all of your beauty school questions answered. You'll also take a tour of the school facilities and salon floor and plan out your dream career in our Career Planning Session.
3. Enroll in Beauty School
View this post on Instagram
During your beauty school tour you can ask about class schedules, financial aid options, and more. A financial aid administrator will sit with you and help you discover the best options to pay for school. After you have decided which class date you'll start and you've made a plan to pay for school, it's time to enroll! You can fill out your application while you're at the school for your tour. You can even fill it out from home!
4. Attend Beauty School
View this post on Instagram
You're all signed up and ready to go! Here's where the fun begins. Beauty school is very different from what you might have experienced in high school or at a traditional college. In beauty school you can expect a blend of classroom learning and hands-on practice. At our Be Aveda Institutes, we carefully choose talented instructors who can help you learn the skills and techniques you need to know.
5. Complete State Licensing Requirements
In Florida, you are required to complete at least 1200 hours of cosmetology training and complete your state board exams in order to become a licensed cosmetologist. Your beauty school training is designed to help you prepare for the state board exam, and our cosmetology program tuition even includes the testing fees! After you complete the state licensing requirements, you are ready to start your career as a licensed cosmetologist.
6. Start Your Cosmetology Career
Some new stylists choose to start their career as an assistant to a well-known stylist in a high-end salon. This can be a great option for people who want to get additional practice and experience. Other stylists choose to become an associate stylist at a salon as they work to grow their client list.
Graduates of Be Aveda Institutes have the benefit of a vast network of Aveda salons both in Florida and around the world. The Institutes have great relationships with salon owners and industry professionals. Some Aveda students are even recruited to work at nearby salons while they are still in school! Many graduates see the Aveda network as a valuable resource.
Day to Day Life of a Cosmetologist
Many cosmetologists love their job because there is something new to experience every day. While not every day is the same, here are a few things you might experience during a typical day as a cosmetologist.
Flexible Schedule
Cosmetology offers more flexibility than many other careers. You will get to take two days off during the week, but they might not be Saturday and Sunday. Since Saturdays are often a busy working day for cosmetologists, taking Sunday and Monday off is common. Other stylists choose to work part-time and only go to the salon a few days a week.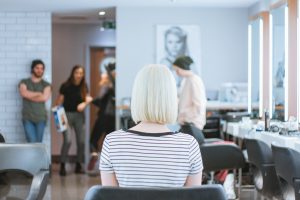 Performing Salon Services
As a stylist, your main responsibility during the day is taking care of your guests. You will have several appointments throughout the day performing haircuts, color services, or even spa services like brow waxes. You might even be working on multiple guests at once!
Between clients, you can clean and restock your station, take a snack break, and chat with the other stylists and guests. Many guests and stylists love being in the salon because of the lively, social atmosphere!
Communication and Organizational Tasks
As you become more experienced and guests start rebooking with you, you might notice that a lot of your time is spent scheduling and communicating with your clients! Stylists often receive inquiries from social media or text messages from their favorite clients looking to book another appointment.
Having an automated message to send to new clients requesting information about their hair and desired results can help you save time while still responding in a timely manner. You can also schedule appointments and answer inquiries while you wait for a guest's color to process.
View this post on Instagram
Pros and Cons of Becoming a Cosmetologist
Like any job, cosmetology has its advantages and disadvantages. While becoming a cosmetologist isn't the path for everyone, it can be a great career option for many people.
Challenges of Becoming a Hairstylist
Cosmetology is a unique career compared to the typical 9-to-5 desk job. Here are some obstacles that you may face once you become a licensed cosmetologist:
Finding Clients
Many stylists work in a salon where they are at least partially responsible for bringing in their own clients. For the first several months as a licensed cosmetologist, you might be less busy as your list of clients grows. Take that time to observe other stylists in the salon. Take notes, practice cuts or coloring, and continue your training to perfect your craft. At Be Aveda, we prepare our students with business skills so that the transition from student to cosmetologist is as seamless as possible.
Physical Demands
A cosmetologist spends much of the day on their feet, working with their hands. Many people prefer this to sitting at a desk all day, but it can be tiring. Cosmetologists need to consume food and drinks that give them the nutrients and energy they need to be active throughout the day. However, working on your feet is likely better for your health in the long run, according to recent research.
Advantages of Becoming a Hairstylist
View this post on Instagram

If you ask a hairstylist why they love their job, you will hear a wide variety of answers! Many cosmetologists are very passionate about their work. Here are a few top advantages of becoming a cosmetologist.
Something New Every Day
As a beauty professional, there is always something new to look forward to. After each service you'll get to see the results of your work immediately. You'll get to perform a variety of services on guests with very different hair types, tastes, and personalities.
Human Interaction
While you won't become best pals with every client, many guests bond with their hairstylist! You'll meet many different people and touch many lives throughout your career. You'll become a multi-faceted stylist and improve your communication skills as each service passes.
Flexibility at Work
We have already mentioned flexible schedules, but this is an important factor for a lot of people! Whether you want to be there in the morning when your kids go to school or you want to choose to travel more than a few days out of the year, flexibility at work can improve your work-life balance.
Another great benefit for cosmetologists is getting paid every day. Some stylists take home all of their paycheck each day, but even those that get paid less frequently still take home daily tips. This can help alleviate some financial burden or stress.
Ready to Learn More About Cosmetology?
View this post on Instagram
You've learned about the steps to become a cosmetologist. Step 1: Research. Check! Get more information about Be Aveda Institutes and schedule your tour by filling out a quick form right here on our site. As seasoned cosmetologists, we are passionate about this path and the changes it can bring to people's lives. We can't wait to get in touch and help you on your journey to becoming a cosmetologist.