You're ready to dive into a career where you can use your skills to make people feel their best, but don't know where to start? Torn between becoming a cosmetologist and an esthetician? We are here to help! Both careers are great because they help people everyday and are flexible options.
Let's start with the basics. A full-specialist esthetician is focused on direct skin care and is licensed to provide a range of services including facials, manicures, and pedicures, while a cosmetologist is focused on hair, skin and nails, and is trained to color, cut and style hair, apply makeup and provide nail care services. As a licensed cosmetologist, you are able to provide all of the services (and more) of a full specialist esthetician. In both careers, you would be working directly with your client to ensure they look and feel their best.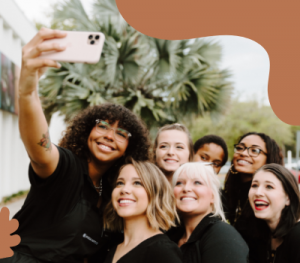 Training to become a cosmetologist or esthetician
At Be Aveda, we understand that life is busy. We offer two schedules for both of these programs to ensure that you don't have to sacrifice to achieve your dreams.
Our cosmetology program can be completed in as little as 10.5 months and the training includes hair cutting, hair coloring, texture services, nail care makeup application business development, retail knowledge, client engagement and loyalty, and more.
On the other hand, our full-time esthiology program can be completed in as little as 6 months and during the training you will learn the science of and application of skincare, makeup, wax techniques, nail care and many other treatments.
No matter the program that you choose at Be Aveda, you will feel prepared knowing that you have had the guidance and training from licensed educators at an accredited school, and the knowledge and tools needed to succeed in your career.
Careers paths for a cosmetologist or esthetician
Between the two industries, there are many different career paths you can take, while some overlap between the two like working in a spa or a salon.
A career in cosmetology offers many avenues for career possibilities in different industries such as hospitality, entertainment, or fashion. You could be a stylist at a resort, or a makeup artist on the set of a feature film, or a beauty editor for a top fashion magazine!
As a licensed full specialist esthetician there are standard career paths and some out-of-the-box options to choose from similarly to a cosmetologist. You can work as a salon/spa esthetician, skin care specialist, salon/spa manager or owner, hair removal specialist,or on the more creative side, you can be a makeup artist or nail artist among many other fields.
The best part is that Be Aveda offers both a Cosmetology Program and an Esthiology
Full Specialist Program. Are you interested in learning more? Call our Student Admissions line at 877-282-8332.