A career in cosmetology is unique in the way that you can start and move your career just about anywhere, Miami today and Los Angeles tomorrow! As a licensed cosmetologist, there are many career options to choose from. There are more traditional options as well as other more creative careers you can jump into.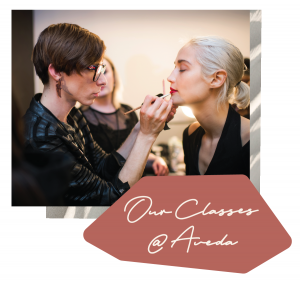 Salon
The most traditional career path for a cosmetologist is to work in a salon. Here you will work alongside other cosmetologists, collaborating and learning new techniques while growing your client base. And by receiving your beauty education through Be Aveda, you have access to a network of over 6000 Aveda salons and spas!
Once you are comfortable with working in a salon and are ready for the next step, you could become a salon owner. As a salon owner, you will work on the beauty side as well as the business side of the industry. The cosmetology program at Be Aveda is more than just a beauty school program, it is specifically tailored to prepare you to become a business owner by offering courses in business management, basic financial planning, marketing and more!
Hotel or Resort
If you are looking for a different type of clientele than the customer in a salon, working in a hotel or resort may be perfect for you. These clients will be travelers from all over the world and you will benefit from enhancing their experience. The location is definitely another perk, maybe a beach in Hawaii? Or an Alpine resort in the Alps? The destinations are endless but could very well be your career reality!
Mobile Stylist
Do you dream of the flexibility to travel around working in the cosmetology field that you love? Becoming a mobile stylist will afford you the ability to travel from client to client, while creating your own schedule. This career path would offer the most flexibility and would require the client to request your service. With the Be Aveda Institutes Cosmetology program, the national networking benefit is a great way to get a head start in building your book of clients.
Entertainment Industry
Could you imagine working on the set of Game of Thrones creating the dramatic looks of the characters that will appear in each episode? A career in cosmetology could set you on that path. In the TV, film, theatre or magazine industries, you will have the creative ability to bring characters to life on screen by styling the hair and makeup looks of each character and turning someone's artistic vision into existence.
Fashion Industry
Think fashion shows, photo shoots and runway looks! This on-the-go career will set you up to be at the forefront of trends and execute the look on models across the globe. Fashion designers will come to you for your expertise in beauty to complement their clothing. Your makeup and hair designs will be seen in ad campaigns on TV and in magazines. To prepare for this industry, you have to enroll in a program that is on the cutting edge of fashion and design. Be Aveda offers this through their cosmetology program and will not only help prepare you for the cosmetic demands of this industry but with our extensive network, your skills will be respected and desired!
Cosmetology School
Much like cosmetology, teaching is a calling and just might be your calling. The experience you will receive from Be Aveda will allow you to blend the arts of cosmetology and teaching. Perhaps teaching in a cosmetology school is the perfect path for you. You will have the ability to work with new students (and the next generation of cosmetologists) and pass along the tips and tricks that you learned while in cosmetology school, all while being kept up to date on all current trends and continuing your education.
As a licensed cosmetologist, the career possibilities are endless! Get started on the path to greatness by finding a cosmetology school that invests in its students, like Be Aveda Institutes. If you are ready to apply today, give us a call at 877-282-8332.