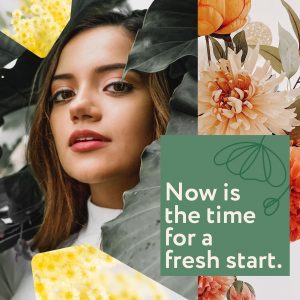 There's something about the Spring season that makes us feel energized, ready to refresh our goals, harvest the seeds planted in previous seasons, and seize new opportunities! Flowers are beginning to bloom; trees are growing; and nature is reawakening.
It's time for us to spring into action, fertilize or harvest the seeds we've planted, pursue our dreams once and for all – and create our own future.
Pursue a career that reawakens you and brings out the best version of you! If you're someone who's always had an appreciation for esthetics, and you believe transforming someone's appearance can transform their self confidence, self esteem and self expression, this one's for you.
Quiz: How do I know if a beauty career is right for me?
More often than not, a job that you're passionate about is a job that's right for you. Passion is the driving force behind masterful artists and industry leaders.
If you enjoy beauty and/or fashion, but you aren't sure whether a beauty career is practical for you, take this quick quiz to find some clarity!
1. Do you get a sense of fulfillment out of creating a stunning makeup look or hairstyle?
a.)  Yes! I love flexing my creative muscles and finding new inspired looks that make people BURST with confidence.
b.)  No, I've never really been into beauty or fashion.
2. Are you drawn to the idea of being your own boss and creating your own work schedule?
a.)  Yes! I thrive when I have control over my work schedule. I want the opportunity to build my own client base and choose the services I offer.
b.)  No, I prefer a more structured work schedule, where my hours and day-to-day duties are planned for me.
3. Do you like working with people?
a.)  Yes! I love meeting new people from all walks of life and building meaningful connections.
b.)  No, I'm more of a "party of one" type of person.
4. Are you interested in going to school to refine your skills?
a.)  Yes! I'm ready to learn from the industry's best. I want to be a master in my field.
b.)  No, school is not for me.
5. Does professional development interest you?
a.)  Yes! I want to continue developing my profession and working my way up in life. Being able to grow in my career is important to me.
b.)  No thanks, I'm cool with staying in one job position until retirement.
If you answered a resounding "YES!" to all of these questions, what are you waiting for?! Apply to beauty school today!
If you answered "no" to most questions, that's okay too! The right industry is still out there for you!
Why choose a Be Aveda Institute near you?
At Be Aveda, we are highly aspirational, highly creative artists who want to make this world a better, more colorful place! Each professional and student at Be Aveda feels strongly about creating a new generation of artistic talent, formulating products that are good to our bodies and good to our environment, and viewing social responsibility as our responsibility.
When you choose our institution, you're setting yourself up for success. We take care of you during and after your schooling. Here's how:
Our institute engages an Advisory Board of successful salon and spa owners to guide and assess the effectiveness of our curriculum.
We provide hands-on training under the supervision of licensed educator professionals in our clinic salon and spa environment.
Our programs are designed to prepare students for the state licensing examinations in their field.
We teach you the qualities an owner looks for, and equip you with an understanding of the standard of excellence necessary to exceed your employers' expectations.
As an Aveda Institute graduate, you'll receive placement assistance in Aveda's professional network of over 9,000 salons, spas, institutes, and stores worldwide.
We are truly invested in your success as a beauty professional. When you succeed, we succeed!
Spring into action & pursue your passions!
Apply to beauty school and allow your passions to bloom! Whether you're interested in cosmetology, esthiology, barbering or massage therapy, we have the perfect program for you.
We have 6 convenient locations in Florida, including Brandon, Jacksonville, Orlando, Tallahassee, Tampa, Ft. Lauderdale/Miami!
Be Aveda takes a holistic approach toward all of our programs. It's our mission to care for the world we live in through all we do: from our environmentally-friendly, cruelty-free Aveda products to giving back to our community, to helping others feel more like themselves.
If you share the same values, we would love to meet you. Be bold and pursue your dreams in beauty. Be you and help other people feel beautiful.
Take the first step to become a beauty specialist today!